Andy Pettitte may not be the most dominate pitcher, he was never the ace of any rotation, but he won a lot of games. Sports are measured and defined by winning and Andy Pettitte did plenty of that in his career. Pettitte was part of 8 different World Series (7 with the Yankees 1 with the Astros) he won 5, all with the Yankees. He is part of core four along with Jeter, Rivera and Posada and a major part of the Yankee dynasty years.
His stats don't immediately jump out at you but the consistency and postseason resume is impressive. Also consider he played in the difficult, high run scoring American League East, outdoor stadium, east coasts erratic weather, pressures of New York and the cut throat media and difficult to please fans who expect nothing short of greatness from their players and team.
Pettitte's 148 wins from 2000 to 2009 were the most in the decade among starting pitchers. He was a 3x All Star, won 20 games twice in his career. In 1997 he came in second for the Cy Young award, many thought Andy got robbed. Never had a losing season in 17 years. Won at least 12 games 9 years in a row. Won at least 11 games in 15 of his 17 seasons, the 2 seasons he didn't were due to injuries. In starts following a Yankees's regular-season loss Andy went 85-47 (.644 win %). His career mark of 245 wins to 142 losses (.633 win %) is amazing when you consider he has 100 more wins then loses. The ERA is 3.86, which is high but you have to take into account the high run scoring division the Yankees are in and pitching in the American League. If people want to make the argument he was a product of the Yankees run scoring and talented teams, he helped take the Houston Astros to the 2006 World Series. In his 3 years in Houston he was 37-26 (.587 win %) ERA 3.38 and was in the top 5 for the Cy Young award in the 2005 season.
The 30 Greatest Sports Conspiracy Theories of All-Time: Ranking Sports' Most Notorious Fixes, Cover-ups, and Scandals
Andy's playoff stats are as follows, 19-11 record (.633 win %) 3.81 ERA (26-18 in games he started .590 win %). He won the MVP for the ALCS in 2001 against the Mariners who won 116 games that year. 29 Quality starts (pitching at least 6 innings and giving up no more then 3 earned runs ) in the post season. 23 games of pitching at least 6 innings and giving up less then 2 runs. When you pitch 44 games you are bound to have some bad games but the majority of Pettitte's post seasons starts have been excellent.  Not to mention handling the playoff pressure in New York and pitching the majority of his games against American League teams. He holds just about every postseason pitching record for a starting pitcher and is 2nd to Whitey Ford in most of the major pitching records in Yankee history.
Here are some games that stand out, for space constraints I wont mention all 23 games.
2000 World Series: Games 1 and 5 vs. The New York Mets
Pettitte's line : 6.2 IP 8 H, 3 ER, 1BB, 4 k
Pettitte's line: 7 IP 8 H 0 ER, 3 BB, 5 K
He battled Al Leiter in both games and they were both intense memorable games. Although Andy didn't get the win in either game he helped the Yankees win both, with Game 5 being the series clincher.
1998 World Series: Game 4 vs. The San Diego Padres
Pettitte's line: 7.1 IP, 5 H, 0 ER, 3 BB, 4 K
He beat Kevin Brown, who was one of the top pitchers in the game, in what would be another Series clincher.
2001 ALCS: Game 1 vs. The Seattle Mariners
Pettitte's line: 8 IP, 3 H, 1 ER, 1 BB, 7 K
Andy would go on to pitch Game 5 giving up 3 runs in 6 1/3 innings and win MVP honors for the series.
2003 World Series: Game 2 vs. The Florida Marlins
Pettitte's line: 8.2 IP, 6 H, 0 ER, 1 BB, 7 K
Should have been a complete game shutout but Aaron Boone made an error at third base on what should have been the final out. Andy would pitch Game 6 and give up one earned run in 7 plus innings losing the game and series after the Yankees got shutout.
1996 World Series: Game 5 vs The Atlanta Braves
Pettitte's line: 8.1 IP, 5 H, 0 ER, 3 BB, 4 K
His most famous game came in just his second season. The turning point in starting the Yankee dynasty. In what would be Pettitte's greatest game, an intense and dramatic 1-0 victory for the Yankees that shifted the series back to New York and what would turn out to be the first of 5 championships for New York during the core four years.
A major stain on Andy's career is getting caught and admitting to HGH. In Andy defense when reports surfaced he never denied it and was open and honest about his steroid use. That cant be said about many other players who were under suspicion or had a lot of evidence against them and went before congress and lied. It will be hard for Andy to get into the Hall of Fame with that over his head.  Maybe with time and the realization that a large majority of players were taking some type of illegal substances during that period may help Andy get in eventually.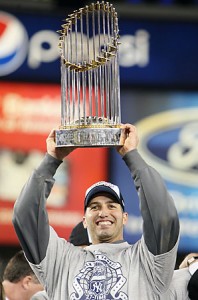 He is dependable, reliable, consistent and knows how to win games. He may not be flashy like some of the other aces but he wins games which is the the most important stat in sports. If you said these numbers to any GM or coach 245 wins, 19 playoff victories, be a part of 8 World Series and win 5 of them, and didn't mention a name and asked if this guy is a Hall of Fame player, I think the majority would say yes. Andy Pettitte's is a Hall of Fame pitcher.